Cream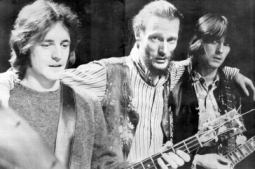 This was it, it was over, before Wheels of Fire was released, Cream announced they were breaking up. They would do one more tour of the US and a final album. Robert Stigwood had planned another double album with a live and studio record like Wheels of Fire. It was not to be, as Cream was exhausted by December when the studio album was to be completed. Instead this single album with three live and three studio songs was released.
Jack Bruce:
Bass (1-5, 7), vocals (1-3, 4-5), piano (5-6), organ (6)
Eric Clapton: Guitars, vocals (1, 4, 7)
Ginger Baker: Drums, percussion (6, 7), vocal (6)
Felix Pappalardi: Piano (4), mellotron (4, 5, 7), bass (6), viola (7)
George Harrison: Rhythm guitar (4)
(1-3) were recorded Live in concert. (4-7) are studio recordings. (7) was not originally on the album and was instead released as a single.
Produced by Felix Pappalardi. Engineered by Bill Halverson, Adrian Barber & Damon Lyon-Shaw.
Recorded: Live - October 19 1968, Forum, Los Angeles; Studio - Oct & Dec 1968, IBC Studios, London.
Recording Engineers: Live - Bill Halverson, remix by Adrian Barber; Studio - Adrian Barber & Damon Lyon-Shaw;
Badge
(Eric Clapton/George Harrison)
Thinkin' 'bout the times you drove in my car
Thinkin' that I might have drove you too far
And I'm thinkin' 'bout the love that you laid on my table
I told you not to wander round in the dark
I told you 'bout the swans, that they live in the park
Then I told you 'bout our kid: now he's married to Mabel
Yes, I told you that the light goes up and down
Don't you notice how the wheel goes round?
And you better pick yourself up from the ground
Before they bring the curtain down
Yes, before they bring the curtain down
Talkin' 'bout a girl that looks quite like you
She didn't have the time to wait in the queue
She cried away her life since she fell off the cradle
Unichappell Music (BMI) & Harrisongs Ltd. (PRS)