A General Introduction Of Sorts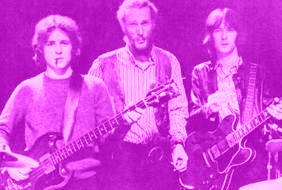 Celebrated as one of the first great power trios and supergroups of rock, their sound was characterised by a melange of blues and psychedelia, combining Clapton's mastery of the genre with the airy voice of Jack Bruce and the manic tempo changes of Ginger Baker. The drug-influenced imagery and ambience of the time abounds. Cream epitomised the high energy sound of the time, anchored in a familiar blues style; from the traditional blues classics such as "Crossroads" and "Born Under a Bad Sign," through more eccentric imagery found in "Strange Brew" and "Tales of Brave Ulysses," and culminating in the protracted indulgences of "Spoonful" and "Toad". Their biggest hits were "I Feel Free", "Sunshine of Your Love", "White Room", "Crossroads", and "Badge". The latter song was co-written by Clapton and George Harrison, who played guitar on the recording under the pseudonym 'L'Angelo Misterioso' for contractual reasons. The late Felix Pappalardi, producer (and later member of Mountain), sometimes called the 'fourth member' of Cream, is featured heavily on the Disraeli Gears album, notable for its striking design by Martin Sharp. British poet Pete Brown wrote the lyrics to many of the band's songs and was another important contributor.
While their studio work and songwriting were therefore relatively formal, in a live setting Cream were almost a completely different band, improvising constantly, with songs regularly surpassing the 20 minute mark. This gained them a reputation as (along with The Grateful Dead) as one of the first jam bands. Much of this stemmed from Bruce and Baker's origins as jazz musicians, although during an interview on The South Bank Show in the late 1980s Clapton attributed the extending soloing to their unwillingness or inability to stop playing and because none of the trio was officially the bandleader with the authority to rein in the other two. Bruce has stated that without Clapton's influence the band would more likely have played a kind of jazz, although what they played in concert was indeed jazz-rock fusion, and Baker commented in a 2005 interview (included with the Cream reunion DVD) that he and Bruce consider Clapton a jazz musician, even if Clapton himself.
Cream broke up in November 1968 due to clashing egos and divergent musical visions: Bruce and Baker were notorious for not getting along, and Clapton famously related how he once suddenly stopped playing in a concert without either of the others noticing. After the completion of Wheels of Fire in mid-1968, the band had had enough and wanted to go their own separate ways, but management persuaded them to do one final tour to promote their new album. This "farewell tour" consisted of 22 shows at 19 venues in the United States between October 4 and November 4, 1968, and two final farewell concerts at the Royal Albert Hall on November 26, 1968. Initially another double album was planned comprising live material from this tour plus new studio tracks, but a single album, Goodbye was released instead with three live tracks taken from their performance at The Forum in Los Angeles on October 19, 1968, and three studio tracks, one from each of the band members. The two Royal Albert Hall concerts were filmed for a BBC documentary and released on video (and later DVD) as Farewell Concert. Both shows were sold out and attracted more attention than any other Cream concert, but their performance was regarded by many as below standard. Baker himself said of the concerts: "It wasn't a good gig ... Cream was better than that ... We knew it was all over. We knew we were just finishing it off, getting it over with."

now didn't you just know,
the home town would
get in on the act somewhere?
for you Americans, that's
Birmingham UK, the Swan Hotel,
May 7, 1967 to be exact